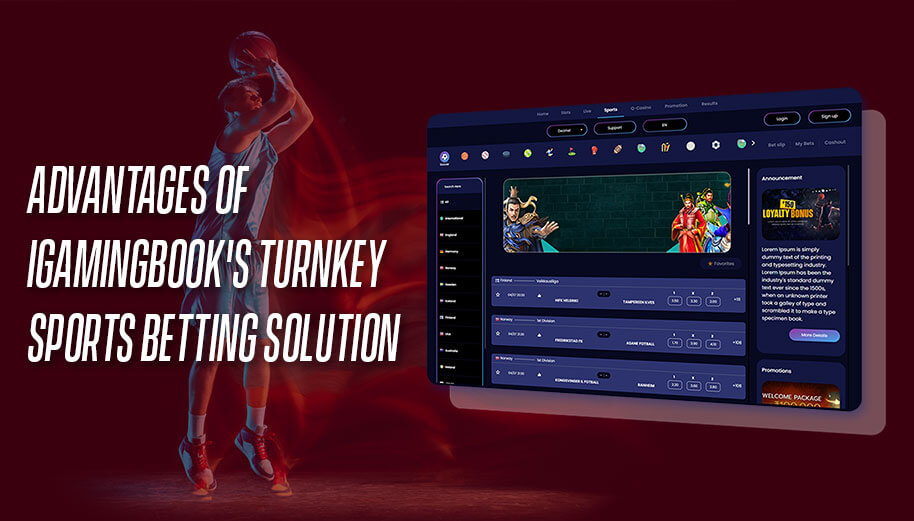 iGamingbook is a sports betting solution that provides a turnkey solution for operators looking to offer a safe and secure sports betting platform. We are dedicated to creating the most innovative, secure, and profitable online gambling products in the world. Our goal is to provide you with the tools you need to become an industry leader, while maintaining your competitive edge through our advanced technology and years of experience in this space.

The turnkey sports betting solution is the ideal solution for companies that want to start their own sports betting business without having to worry about software, hardware, and other technicalities.

With this turnkey solution, you can offer your clients an online sports betting platform with all the necessary features and functionality. You will be able to customize it as per your requirements and needs of an online sports betting business.
What is a Turnkey Solution?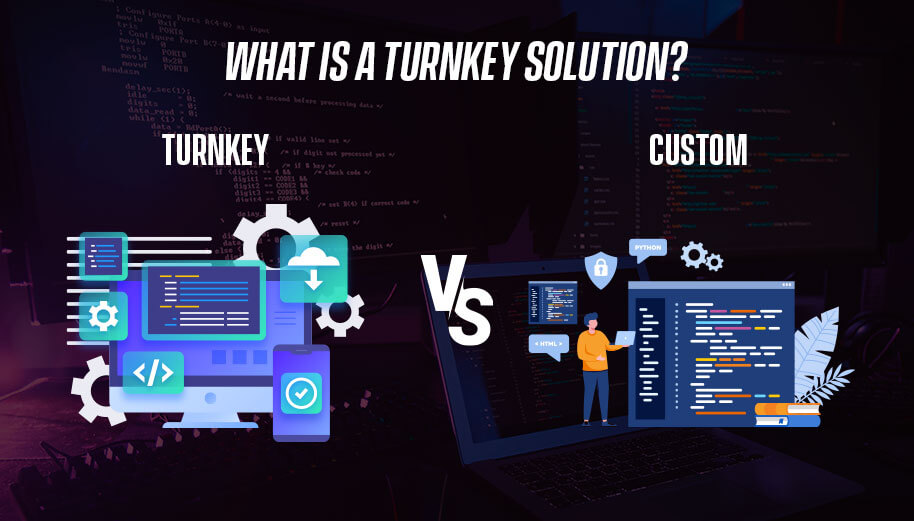 A turnkey solution is a packaged service or product that offers the customer complete and integrated solutions that require no additional investment in hardware, software, or other integral components. Turnkey solutions are often used in business to help organizations cut costs and increase efficiency by outsourcing their IT support. A turnkey solution can also be used to deliver software as a service (SaaS) offerings on an ongoing basis. Turnkey solutions are usually purchased from third parties who have already assembled all of the required hardware, software and other resources needed for the solution to work properly. This approach allows companies to get started with their new venture quickly without having to invest time or money in assembling all of the necessary components themselves.
Features Offered with iGamingBook's Turnkey Sports Betting Solution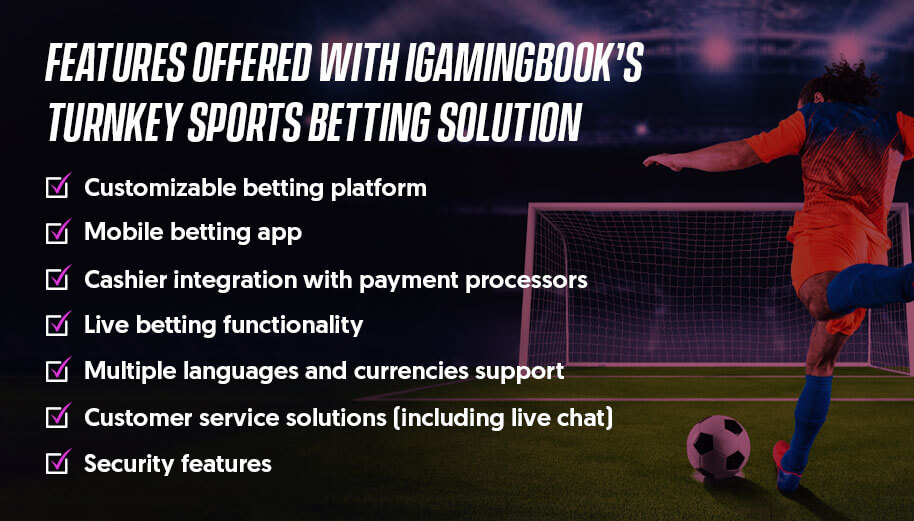 iGamingBook is an online sports betting platform that offers a turnkey solution for those looking to enter the online gambling industry without having to build the product from scratch. The company provides B2B support and services including sportsbooks, casinos and other gaming operators who want to offer their customers a high-quality betting experience.

The company's flagship product is its sports betting software, which offers an intuitive interface that can be customized as needed by the operator. It comes with a range of features as per the iGaming industry trends, including:
Which is Better: A Turnkey Betting Solution or a Custom Solution?
There are two types of betting solutions: a turnkey solution and a custom solution. A turnkey solution is one where the whole process, including the software, is provided by a single provider. A custom solution is when the software is developed in-house or by a third party. The benefits of each approach are different and depend on your needs. For example, if your needs are simple and don't require much customization, then a turnkey solution may be best for you. On the other hand, if your needs are more complex and require extensive customization, then a custom solution would be better suited to your needs.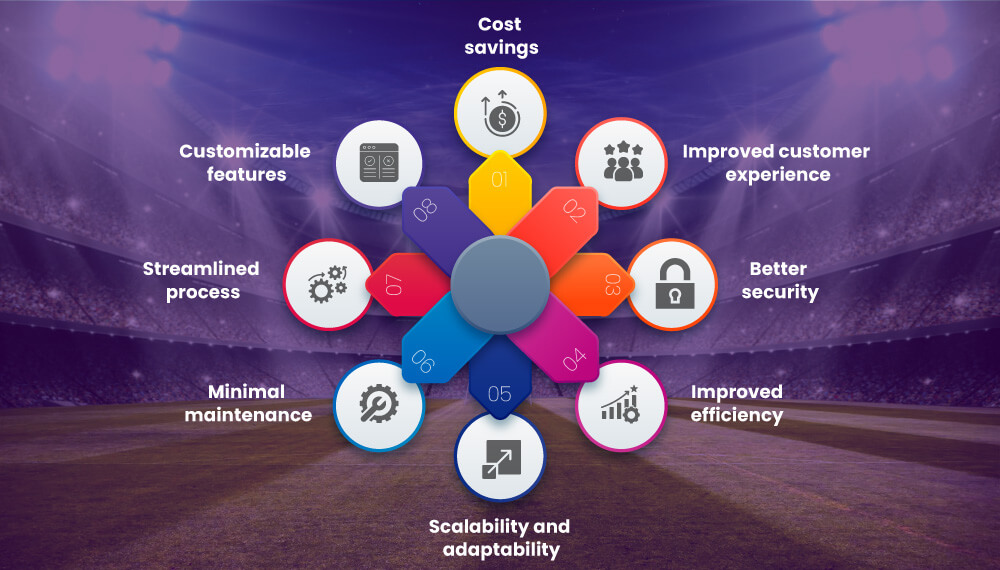 Cost savings
The first and most obvious benefit is cost savings. Turnkey providers use a pre-built system that they've already tested and modified based on feedback from their customers. They can offer this service at a fraction of the cost that it would take you to build it yourself. That means you can save money while still delivering an excellent user experience.

Improved customer experience
Partnering with a betting technology company can help you to provide a better customer experience. This is because they will have created a platform that is user-friendly and easy to navigate. The technology will also allow you to offer a wide range of games, which means that your customers will not be limited in what they can choose from when placing their bets. You will also be able to provide them with real-time updates about the matches that are taking place, which means that you can keep them engaged throughout the event.

Better security
Turnkey betting solutions come with an integrated risk management system that can be used to stop fraudulent activity on your site as well as money laundering. This system means that you will always be able to see who is using your website and how much they are spending, which is useful when it comes to targeting your audience effectively.

Improved efficiency
With a turnkey betting solution, you don't have to spend time and money creating your own in-house betting platform. Instead, you can focus on growing your business by offering a variety of high-quality products and services. This means better returns on investment for you and more opportunities for growth.

Scalability and adaptability
When you use a turnkey betting solution, you don't need to worry about scaling your system up or down. This means that you can start small with a small amount of money and then scale up as needed. It also means that if your business takes off faster than expected, you can scale up your operation quickly and easily. If you're planning on offering live betting, particularly live streaming video, then this is especially important because it allows you to do so without having to invest in new hardware or software.

Minimal maintenance
One of the biggest advantages of turnkey betting solutions is that you won't have to worry about any of the technical issues involved in running an online bookmaker – everything is taken care of by your chosen provider. This means that you can concentrate on growing your business profitably instead of spending time on maintenance tasks like installing new software updates, fixing bugs or upgrading hardware components.

Streamlined process
Another benefit of using turnkey solutions is that they streamline your process. You don't have to spend time building the system yourself; instead, you can focus on running your business and making sure customers have a good experience with your website or app. With many providers, there are also plenty of resources available to help clients get started quickly and easily with minimal training required on their end as well as yours.

Customizable features
When you use a turnkey betting solution, it allows you to create a unique brand identity while also providing the ability to customize features such as odds formats and odds types. For example, if your target audience is based in the U.K., then it makes sense to offer odds formats that are familiar with British currency (e.g., pounds). If there are specific types of bets that are popular in France such as First Goalscorer or Total Goals, then these options can be made available as well through your online betting platform.
What Does iGamingBook Offer?
iGamingBook offers a complete turnkey sports betting solution that is fully compliant with the latest regulations in the gambling industry. Our platform is a powerful and flexible sportsbook software, designed to cater to all types of sports betting operations. We provide everything you need to get started with your online sports betting business right away. iGamingBook is a B2B software provider that has been built from the ground up with scalability in mind. It's flexible enough to accommodate any type of sportsbook model, whether it's based on fixed odds or live betting markets. You can also customize our platform to suit your needs. Using our well-documented API, you can integrate our software with your own website or existing infrastructure in just a few minutes. Our software comes with many features that will help you manage your customers' accounts and keep track of their bets.
iGamingBook offers the most advanced, secure and trusted sports betting software available. Our platform has been developed by industry professionals and is used by some of the biggest iGaming operators in the world. iGamingBook's turnkey sports betting solution provides a trustworthy option for your sports betting platform needs. The software is completely customizable to suit your needs, and we provide 24/7 support to ensure that you get the best experience possible. Our team of B2B software providers has been working on this project for more than a year now, and we are proud to announce that we have completed our beta version of our sportsbook software for online casinos and poker rooms!
Which algorithm do sports bettors use?
There are several different algorithms that sports bettors use. The most common one is called the "moneyline," which focuses on the odds of winning or losing a game. The moneyline is a simple system that allows you to compare how much it costs to bet on each team, so you can find the best value.
Is turnkey sports betting solution better than a third party API?
Turnkey solutions provide a more comprehensive and streamlined approach to your sports betting needs. They also offer a higher level of security and control, which is crucial in this industry.
Does the turnkey sportsbook platform offer risk management tools?
Yes, our turnkey sportsbook platform offers risk management tools. We have an in-house team of experts that can help you set up your own risk management system and use it to ensure the safety of your players' funds.
Does iGamingBook offer marketing support after the launch of the sportsbook platform?
Yes, we do. We offer marketing support after the launch of the sportsbook platform. We have a team of experts who can help you with your marketing strategy, as well as provide guidance on how to build your brand and create an engaging user experience for your users.