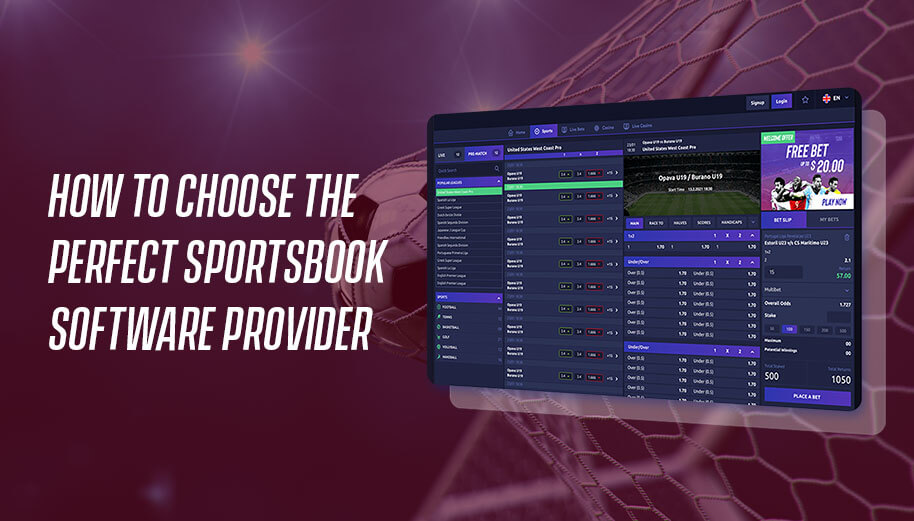 So you're thinking about opening a sportsbook? That's great! But it's important to understand the costs behind building a legitimate and quality sportsbook. Developing the software is the only way to go because of the risks associated with third-party software.
With the global sportsbook market reaching the mark of $129.3 billion, the market is ripe for opportunity for new bookmakers who want to provide their unique services to the punters.
The Asia Pacific region dominates the market of sports betting worldwide, as more and more countries are legalizing the use of online betting platforms.
One of the most common questions we are asked is how much does it cost to develop sportsbook software? This article will hopefully answer most of the various aspects, from different types of features that can be added to the costs involved in development.
Sportsbooks are complex systems, and building one is not cheap. Even the most basic sportsbook has to be able to handle multiple bets, pay out winners, keep track of balances, and more. It isn't just about getting the right odds on a sports event — it's also about keeping track of all your players' bets and making sure they get paid out when they win.
Factors Affecting the Cost to Develop a Sportsbook Software
The cost to develop a sportsbook software is an important factor that should be carefully considered before the development process begins. The cost of developing a sportsbook software varies depending on several factors, including the number of users, the complexity of the application, and the need for customizations.


The following are some of the factors that affect the cost of developing a sportsbook software:

Sportsbook Licensing Costs
Sportsbooks need to be licensed by the government to operate legally. This is because most sportsbooks are run by a company that is based in another country, or even on a different continent. In addition, sports betting is illegal in many countries and can only be done legally if it is done through a licensed operator.

The costs associated with getting licensed vary from country to country and even from jurisdiction within the same country. For example, if you want to set up a sportsbook in the United States, you would have to go through two different types of licensing processes: federal and state. The cost of each would depend on your business model (whether you're running an online or brick-and-mortar operation) as well as other factors like location (if you're operating in New Jersey versus Nevada).

Technical Requirements
Many of the sportsbooks' requirements, such as software architecture and database management, can be very technical. This might require hiring a specialist or outsourcing the development to a company with experience in the field.

The technical requirements for your sportsbook software depend on several factors. For example, if you want to be able to offer multiple types of bets, such as head-to-head bets or parlays (wherein you bet on two or more teams), then you'll need a back-end system that can handle these types of bets. Similarly, if you want to offer live betting options (wherein you bet on events as they occur) then you'll need a back-end system that can handle real-time updates. These types of options usually involve complex algorithms that require extensive testing and fine-tuning before they're ready for use by customers.

API Integration
The best sportsbooks use third-party APIs to power their betting interfaces. This means that they don't need to build their systems for live betting or market data — they simply use someone else's API and pay them for it. The most common developer for sportsbook software is Betfair, but there are others as well. If your chosen developer does not have experience integrating with one of these third-party tools, then you will need to add a step to your development process and pay for this separately.

APIs allow different systems and applications to communicate with each other without having any prior knowledge of each other's code or format — which makes them incredibly useful. However, they're also quite expensive to develop because they require special programming skills and expertise with technology in general.

Customer Support Requirements
Customer support is one of the most important factors that affect the cost to develop sportsbook software. The more support you need, the more time it takes to build and deploy your sportsbook. You will also have to hire more people or outsource it.

Sportsbooks that have large customer bases and offer 24/7 customer support will need to consider hiring more staff or outsourcing their customer support team. The cost of providing this service can vary significantly based on the type of sportsbook being built, the number of bettors it attracts, and its location. For example, if you're developing a relatively simple sportsbook that has only 100 bettors, then you may not need much customer support at all. But if your software has thousands of users who place hundreds of bets every day, then you'll need a large team dedicated solely to customer service.

Number of Features
The more features you want in your platform, the more expensive it will be to develop. For example, if you want a platform that allows players to bet on horse racing and cricket, it will cost more than one that doesn't have those features.

The more complex your project is, the higher your bill will be. It's all about scale — if you're building a simple eCommerce platform, you're looking at a few thousand dollars. But if you're building a complex social media app that integrates with other services, get ready to part with $50,000 or more.

Security Considerations
Given the sensitive nature of the data that sportsbooks handle, security is a major factor in determining the cost to develop sportsbook software. Security features can include:


User authentication – Ensuring that only authorized pxusers have access to the system as well as controlling what they can do using their credentials. This might involve multi-factor authentication which requires users to provide more than one form of identification before gaining access to the system.
Data encryption – Encrypting all data stored in the database so that it cannot be read by unauthorized parties even if it is compromised.
Audit trail – Recording every action taken by users on any part of the system so that they can be monitored and audited by management if necessary.
Average Cost of Development of Sportsbook Software
When deciding to develop a sportsbook software, you must know that there are two variants: custom-built and white label solutions.
Cost to Build a White Label Sportsbook Software
The cost to build a white label sportsbook software varies depending on the number of features you want incorporated into the platform and the number of players you want it to support. For example, if you want to offer a casino-style gambling platform with hundreds of games, then the cost will be higher than if you just want to offer sports betting.The average cost to build a white label sportsbook software is around $5,000, but this is just an estimate. There are many factors that can contribute to the final price tag, such as:
The amount of time needed for development
The type of features you want included in your platform
How many players you want to support
Cost to Develop a Custom Sportsbook Software
The cost of developing a custom sportsbook software depends on several factors such as the size of the business, the features that need to be included, and the complexity of the project.
The average cost to develop a custom sportsbook software is $100,000.
However, it can go up depending on how complex your requirements are.
Here are some factors that can affect your cost:
Customization needs (which include integrating with third-party systems like payment gateways and risk management tools). If you want to integrate with third-party systems or customize certain features or elements of your software, then it will increase your costs significantly.
Number of users (more users mean more testing and debugging time). The number of users determines how much testing time is required for your system before launching it live.
Time frame (shorter timeframe means fewer resources allocated per week). If you need to get something done quickly and in a short timeframe (like within two months), then you'll have fewer resources allocated per week than if you were working on a longer timeline (like three months).
5 Steps to Build a White Label Sportsbook Software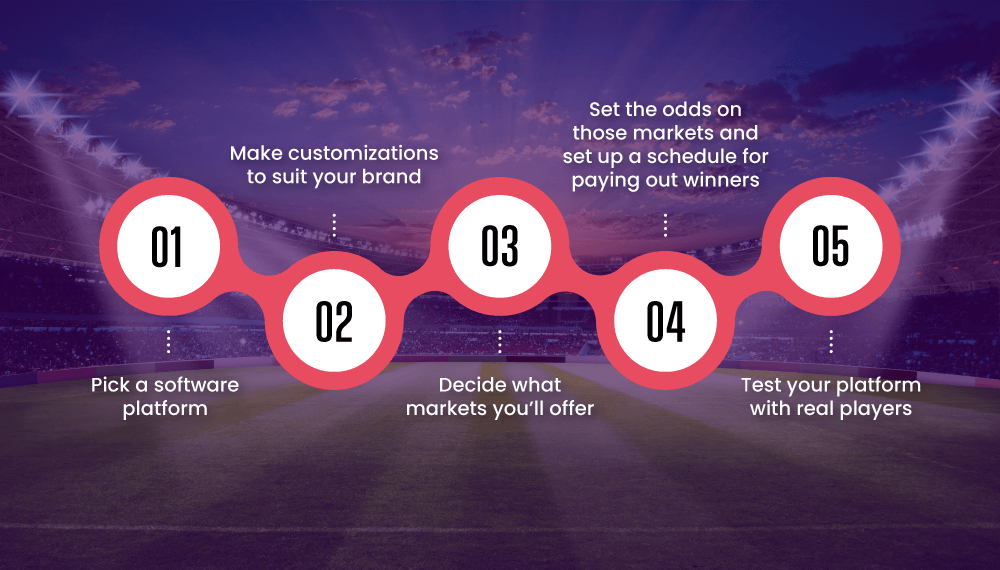 White label sportsbook software is the most popular type of betting software today. Instead of creating a unique brand name, you'll be able to use your brand to sell the product. This is a great way to generate revenue without having to build your sportsbook website from scratch. It's also one of the best ways for new sportsbooks to get started in the industry without having to worry about losing money on marketing or customer acquisition costs.

If you want to compete with the big players in the sports betting industry, you're going to have to build a white label sportsbook.

Here are five steps that will help you get started:

Pick a software platform.
Many companies are offering white label sportsbook software solutions, each with its unique features and benefits. You should choose the one that meets your needs and fits within your budget. You can look at their websites to find out more about them, or you can contact their customer service team for more information about their products and services.

Make customizations to suit your brand.
Once you've selected a provider for your white label sportsbook software, make customizations so that it suits your brand's image and reputation. This is important because it will help build trust among customers who visit your website regularly since they'll recognize it as being part of their favorite online gambling platform instead of thinking that they're on another website operated by someone else entirely!

Decide what markets you'll offer.
Sportsbooks have to be licensed by the government of the country where they operate, and some countries place restrictions on which sports can be offered. You may also want to consider whether or not you will offer betting options such as futures, props, and live betting.

Set the odds on those markets and set up a schedule for paying out winners.
The most important part of setting up your sportsbook is the odds you set on games and events. The more accurate your odds are, the better chance you have at attracting bettors.

Once you've set your odds, it's time to create a payout schedule so that you can pay out winners when they win. The payout schedule should be transparent and easy to understand for bettors so that they can see how much money they have won or lost on each game or event.

Test your platform with real players.
This is one of the most important steps because it will give you an idea of how well your white label sportsbook software performs under pressure. You can run tests for several months before launching your site. The more time you spend testing, the better it will be when it comes out of the gate.
Features to be Included in a Sportsbook Software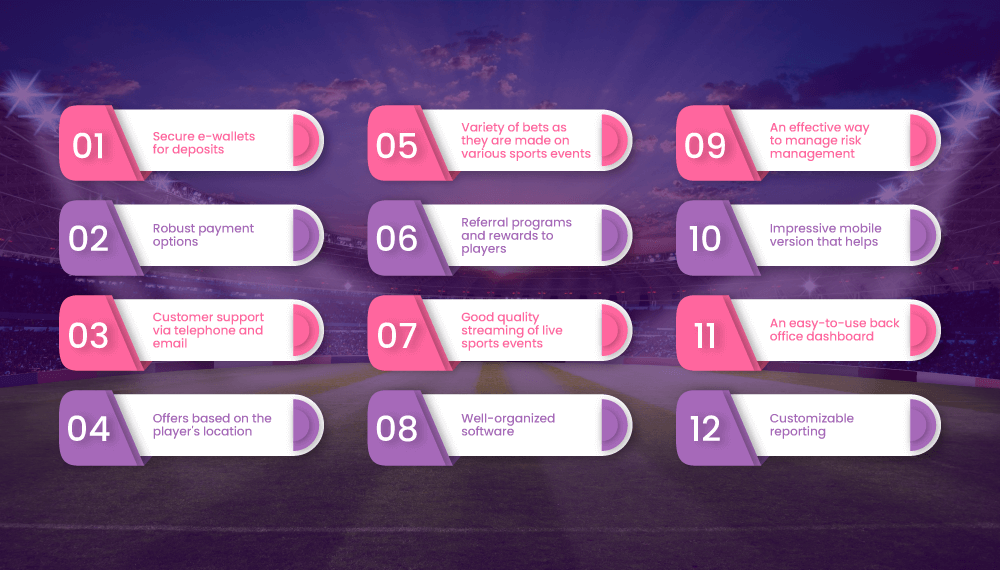 The sports betting industry has grown so much over the years that it's now one of the most popular forms of entertainment for gamblers. However, it's still important for you to know what features are included in sportsbook software before you start using it. Whether you're a beginner or an experienced player, here are the 10 best features that should be included in your sportsbook software:

Secure e-wallets for deposits
This is one of the most important features to look for in a sportsbook software provider. It allows players to deposit funds without having to provide any personal information, so you can rest assured they will not be at risk of identity theft or fraud.

Robust payment options
Today, people have access to many different ways of depositing money into their accounts and withdrawing winnings from them. Some of the most common methods include credit cards, debit cards, bank transfers, and PayPal accounts. This feature should be included in any sportsbook software because it makes things easier for both customers and operators of the website.

Customer support via telephone and email
Sportsbook operators need to provide users with adequate customer support services so they can address any concerns or issues quickly and effectively before they escalate into bigger problems or complaints.

Offers based on the player's location
Players who live in certain countries may have different options than players who reside in other places. For example, if you live in the United States, your sportsbook software should offer NFL, NCAAF and NBA wagers as well as MLB bets. If you live in Germany, your provider should offer soccer and tennis.

Variety of bets as they are made on various sports events
There should be enough betting options available so that all types of players are satisfied with what they see on your site. This includes everything from simple wagers on team victories or points spreads to more complex wagers like how many points a player will score in a game or who will win MVP honors at the end of the season.

Referral programs and rewards to players
A good sportsbook software will have a referral program that allows players to earn money by inviting their friends to join. These programs can be used for both new players and existing ones, and they are an excellent way for you to earn extra cash without having to put in any extra time or effort.

Good quality streaming of live sports events
Live streaming allows users to watch sporting events while they're happening, instead of waiting until they're over. This makes it easier for them to place bets on games that are already taking place.

Well-organized software
The interface should be intuitive and simple enough that even those with no experience in online gambling can easily navigate through it and place bets. The design should also be attractive and appealing, so it encourages new players to register with your site.

An effective way to manage risk management
Risk management is one of the most important parts of running an online sportsbook – especially when it comes to handling cash transactions from customers. The best software will allow you to manage your risk in a variety of ways, such as setting limits on how much money players can bet per game or setting specific rules for certain types of bets.

Impressive mobile version that helps
The best sports betting software should have an impressive mobile version that helps players place bets quickly and easily. This usually involves a simplified interface that allows users to see all the information they need without having to navigate through too many menus or screens.

An easy-to-use back office dashboard
One of the most important things you can do is make sure that your back office is easy to use and understand. You don't want your bettors having any trouble navigating through it. This means making sure that all the information about each game is easy to find, as well as providing an intuitive interface for placing bets and paying out winnings.

Customizable reporting
Sportsbooks need reporting tools that allow them to track customer behavior over time so they can make adjustments as needed based on what's happening with their business at any given moment in time. This allows them to improve their marketing strategies and increase their profits over time.
Technology Stack Used for Developing a Sportsbook Software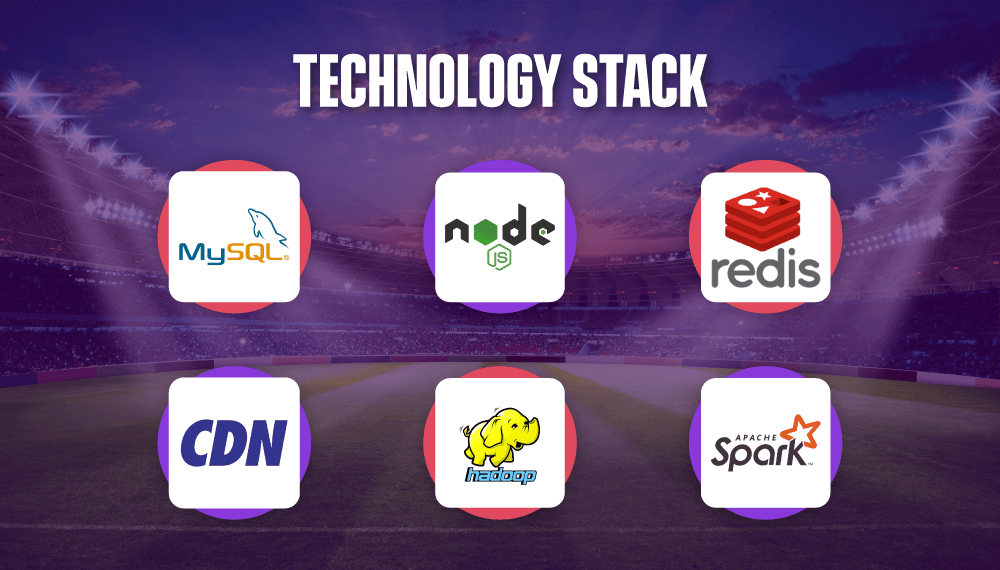 The cost of the sportsbook software also depends upon the tech stack chosen for development. The stack is a combination of tools and services used to develop and run a web application or web service. If a developer uses an open source framework, then it would be cheaper than using proprietary technology.

The most commonly used technology stacks are:
How Opting for a White Label Sportsbook Software Cuts Your Development Cost?
A white label sportsbook is one that you can tailor as per your requirements and add your branding.

A white label casino is ideal for people who want to start their online gaming business without investing much time, money, or effort. You just need to find the best white label casino script and customize it according to your needs.

You can use the ready-made feature of a white label sportsbook to run your business smoothly. You don't need to spend thousands of dollars on hiring developers who will work on your site and make it highly functional. Hence, opting for a white label sportsbook helps you save money while allowing you to earn big bucks!

iGamingBook provides you with a complete white label sportsbook solution. You will get your casino software, which can be customized to match your brand. The end-user experience will be the same as in any other sports betting site and you have full control over the look and feel of your website.

iGamingBook is a platform for managing your sportsbook business. It allows you to manage your customers, payments and transactions, customer support, and a lot more using our easy-to-use interface. You can also choose from a variety of templates for the front end of your website or create your customized design.
What is the most popular sportsbook?
The most popular sportsbook is Bet365. They have been in business for over 30 years. They have millions of customers from all over the world and have been consistently rated as one of the top online sportsbooks.
In which states of the US are sportsbooks legal?
Online sportsbook websites and betting are legal in Nebraska, Kansas, Ohio, Florida, and Maine. In more than 25 states, the bill to legalize it has been introduced.
How can I make a sportsbook platform?
There are two main ways of doing this:
- Manually process each bet and payout manually.
- Use software that automates the process of accepting bets, calculating odds, and paying out winnings.
How does a sportsbook make money?
The main way a sportsbook makes money is by taking a small commission from every bet that is placed on its website. The commission varies from sportsbook to sportsbook, but you can expect to pay anywhere between 1% and 5% of your total wagers.
What is the average cost to develop a custom sportsbook software?
For a custom sportsbook software that is built from scratch, the average development cost ranges from $40,000 to $60,000. The final cost depends upon various factors and features included in the website.