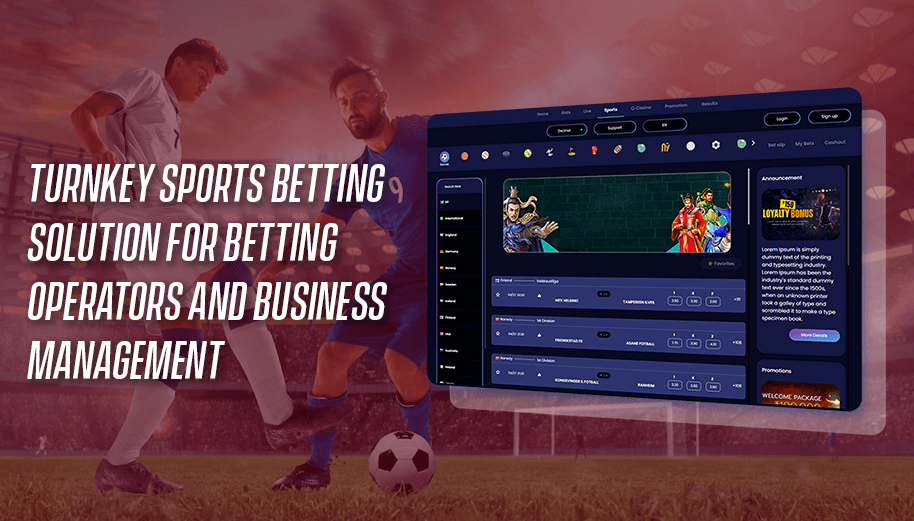 Betting is a multi-billion dollar industry that has been growing at an exponential rate over the past few decades. With the legalization of sports betting across the United States and many other countries, there has been a massive increase in demand for sports betting platforms. This has also led to an increase in competition among betting operators and business owners looking to expand their customer base and maximize profits.
Turnkey sportsbook solutions offer all the necessary software, hardware, and support needed to run a successful sportsbook. This includes things like live betting, mobile betting, and much more.

The best part about using a turnkey sports betting solution is that it can be integrated into any website. This allows operators to focus on other aspects of their business while still offering sports betting as an option for players.

If you want to know more about what turnkey sports betting solutions have to offer, then read on!
What are turnkey solutions?
Turnkey sportsbook software is a pre-built package that can be used to set up a business in a specific industry. They can include everything from website templates to software programs and services that can help you get your business started. Turnkey solutions can be especially helpful for new entrepreneurs who have little experience in the industry they're entering but have a great idea and want to start their own company quickly.

Because turnkey betting solutions are already built, they can save you time and money when starting a business. Instead of spending hours designing your website or developing the software for your business's operations, you can purchase these items from a provider who has already created them. This allows you to focus on what matters most — growing your company and building customer relationships.
Why do betting operators need turnkey sports betting solutions?
The answer is simple: to offer their customers a better experience. The betting industry has undergone a major transformation in the last decade, with the rise of online betting. This has led to an increase in the number of offers available and a growing interest from gamblers worldwide. This trend has put pressure on operators to provide their customers with faster and more reliable services, while also providing them with more entertainment options. To keep up with this demand, betting operators must find ways to make sure they are meeting their players' needs. One way they can do this is by looking at new technologies and finding ways to integrate them into their operations so they can deliver better software solutions that will allow them to offer players an even better experience than before. There are many reasons why operators need turnkey sports betting solutions:

Solving the problem of customer acquisition in regulated markets
In regulated markets, such as the UK, operators need to go through a lengthy process before they can begin offering their services to customers. This makes it difficult for them to acquire new customers on their own. By using turnkey solutions, operators can quickly get their platform up and running so they can start attracting new clients.

Increasing the number of available products and services
Many operators want to offer more than just sports betting on their platforms, but they don't have the time or resources to develop these products themselves. Turnkey solutions take away this burden by offering multiple products in one package that you can use right away.

Reducing costs and increasing profits
Sports betting is a competitive industry; therefore, every operator wants to ensure they are operating at maximum efficiency while keeping costs low at all times. The best way to do this is by using an effective solution that will reduce overhead costs and increase profits overall so you can focus more on growing your business instead of spending time worrying.
Difference between a turnkey and a custom-made sports betting platform
If you're planning to launch a sports betting platform, you may be wondering whether you should choose a turnkey solution or build your own from scratch. The answer depends on a variety of factors, including the size of your business, your budget, and your technical expertise. Here we have compared turnkey and custom-made platforms so you can decide which one is right for you.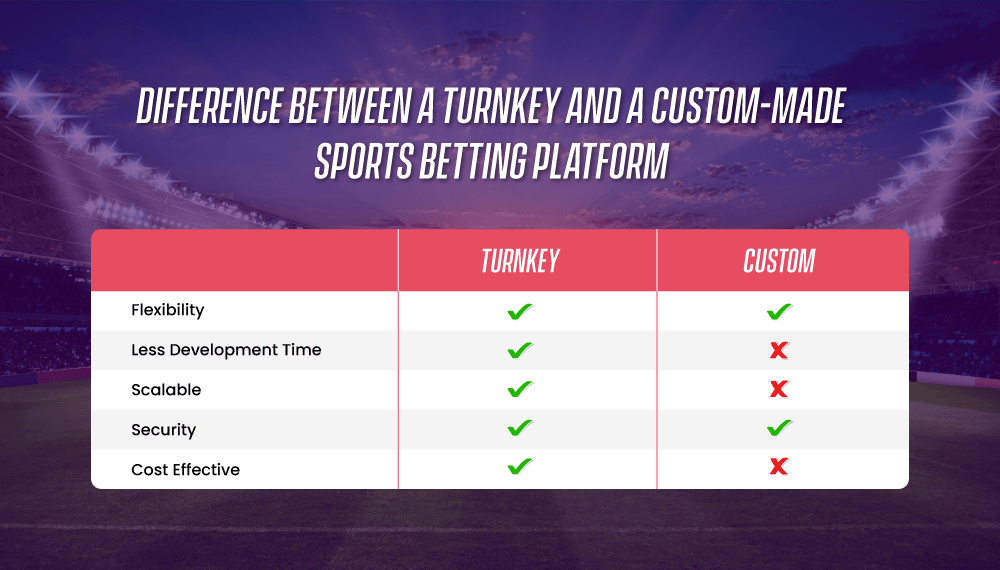 Flexibility
A turnkey sports betting platform is more flexible than a custom-made one because you can modify it according to your needs. If you opt for a custom-made one, you will have to wait for its development until it's finished and ready for use.

Time frame
A turnkey sportsbook is a ready-made solution for setting up a sports betting platform. It is ready to go out of the box, with all the necessary functionality and features. A custom-made sportsbook means that our developers will create a product specifically designed for your needs and requirements. This takes a much longer development time.

Scalability
Another difference between these two types of solutions is that scalability is more important for turnkey platforms than it is for custom-made ones. This means that their capacity can be easily increased by adding new servers in case you need additional capacity or want to expand your operations by adding new markets or games.

Security
When it comes to security, turnkey platforms generally offer more protection than custom-made platforms. This is because they have been developed to meet industry standards, so they don't leave any gaps where hackers could potentially exploit vulnerabilities. In addition, they often come with built-in safeguards like two-factor authentication (2FA), which ensures that even if hackers manage to break into an account, they won't be able to use it unless they have access to another device where they can confirm their identity via SMS or email.

Cost
Another thing to know is that turnkey platforms are usually less expensive than custom-built ones. This is because they are created by engineers who have already worked on similar projects in the past, so they have knowledge and experience that can be applied to your project. Customized software development requires more time and money because fewer developers have experience with it. In addition, you will have to pay for training for your developers to ensure that they can use the software properly.
Advantages of a turnkey sports betting software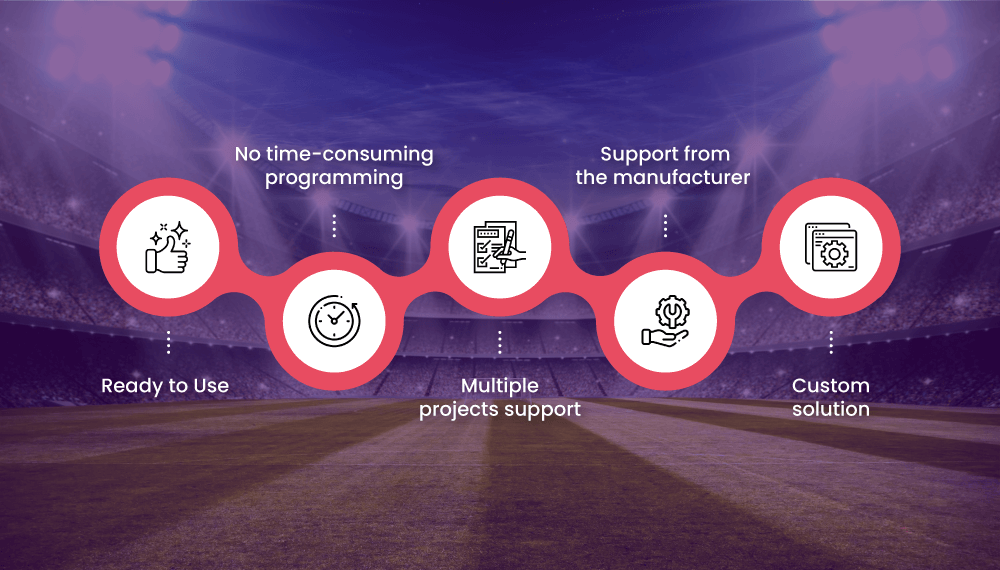 The advantages of turnkey sports betting software can be summarized in five simple points:
Features to be included in a turnkey sports betting solution for betting operators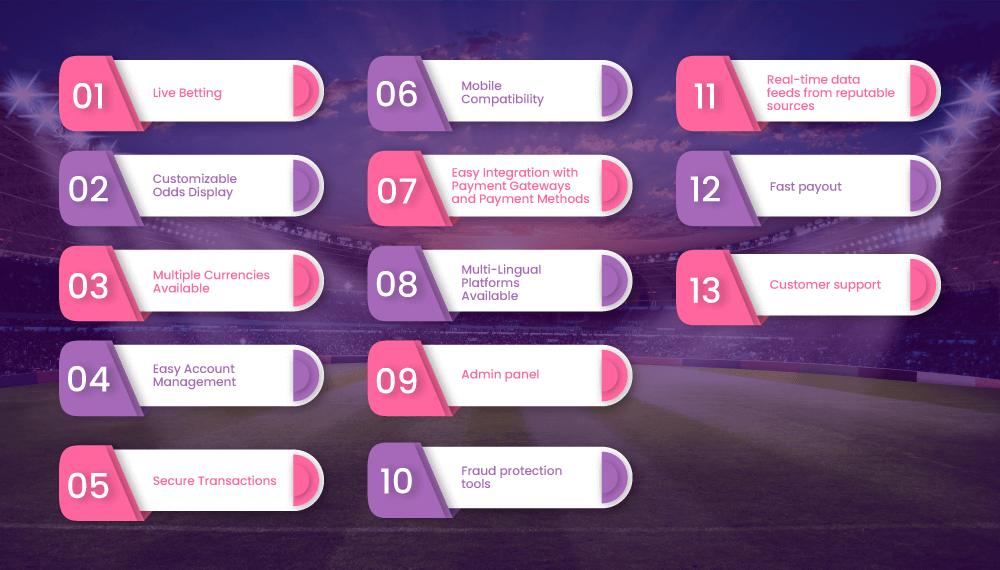 When you're looking for a sports betting platform, you want to make sure that the platform is fully customizable. This means that the software is flexible so that it can be used for any type of business, from small mom-and-pop shops to large corporations. Here are 13 features that your turnkey sports betting solution should have:

Live Betting
Live betting is a feature that allows the players to bet on the outcome of an event as it is happening. For example, you can bet on who will win in a football match or which team will score first. Live betting is available in almost all sports such as football, cricket, and tennis. The sportsbooks offer various types of live betting markets for their online users. Some of these include:

Customizable Odds Display
The odds display is the core of any sports betting website. It is what users see first when they visit your site, and it is the first impression that you make on them. It should be attractive, easy to understand, and intuitive.

Multiple Currencies Available
One thing that many players prefer when it comes to online betting sites is being able to place bets in more than one currency. Some sportsbooks allow players to place bets in their native currency while others accept only one or two types of money as payment methods. Customers need to know which type of currency they'll be required to use before making their first deposit so they don't get caught off guard by this requirement later on down the line.

Easy Account Management
One of the most important aspects of any online casino or sportsbook is how easy it is for players to open an account and deposit funds into their accounts. Your customers will want to be able to deposit money quickly and easily so they can start placing bets right away. You'll also want to make sure that your system allows players to withdraw their winnings quickly and easily as well.

Secure Transactions
The platform must be secure and reliable, and it must be able to handle the volume of transactions required by a sportsbook. For example, if you want to get into the online casino business, you'll need a platform that can handle thousands of customers at the same time betting on hundreds of different games.

Mobile Compatibility
Mobile compatibility is one of the most important features to consider when choosing a sports betting solution. This is because the majority of bettors place their bets from mobile devices and not from desktops or laptops. The ease with which players can place their bets using mobile devices makes them more likely to do it.

Easy Integration with Payment Gateways and Payment Methods
The payment gateway integration feature allows you to accept payments via credit cards or e-wallets such as PayPal. You can also integrate additional payment methods such as bank transfers, Bitcoin, etc.

Multi-Lingual Platforms Available
Many sports betting software providers are providing their applications in different languages like English, Spanish and French. This is useful for the operators to reach out to more customers across the globe.

Admin panel
The admin panel is the heart of your sports betting business. It's where all the action takes place, and you will spend most of your time on it. The admin panel should be easy to use and navigate. It should comprise all the necessary features to run your sports betting website efficiently.

Fraud protection tools
Fraud protection tools are designed to protect players from fraud and cheating. These tools include a variety of techniques such as IP address blocking, geolocation tracking, and KYC/AML requirements. All payment processors require these fraud protection tools as part of their overall service offering.

Real-time data feeds from reputable sources
The best sports betting platforms are constantly monitoring the odds and adjusting their payouts accordingly. This is especially important for an online sportsbook that accepts bets from a large number of customers. You need to ensure that the site can handle a significant amount of traffic without slowing down or crashing.

Fast payout
The best online casinos offer fast payout times so that players can get their money as soon as possible after winning a bet or tournament. This will give them confidence in your site and encourage them to keep playing there over other options available online.

Customer support
The customer support team should be available 24 hours a day, 7 days a week so that you can address any issues that may arise during your business operations. They should also provide training on how best to use the software package for running an efficient sports betting operation.
iGamingBook offers the best turnkey sports betting solutions for the global gaming industry. We have over a decade of experience in the iGaming industry and our team is made up of some of the most experienced developers, designers, and operators. The iGamingBook platform is equipped with a wide range of features that are specifically designed to make it easy for operators to manage their businesses. Our platforms also make it easy for players to manage their accounts whether they want to deposit money or withdraw winnings. Our turnkey solutions allow you to get started with your sports betting business within a few days after choosing one of our packages. We also offer 24/7 support services for every customer who needs help with their implementation process or any other questions regarding their iGamingBook website or app. We are always ready to assist you with everything you need!
What are the features provided by iGamingBook's turnkey sports betting software?
Our sports betting software has many features that make it easy to create a professional sportsbook website. These include:
- Customer account management (including deposit/withdrawal and account details)
- Automatic odds calculation
- Cashier functions (including credit card payments and bank transfers)
- Live odds feeds from major sportsbooks around the world
- Live betting functionality
- Sportsbook integration with popular eCommerce software
Does the turnkey sportsbook solution come with casino integration?
Our turnkey sportsbook solution comes with casino integration, which means you can offer both sports betting and casino games. We have several casinos that are ready to go right now, but if you want something specific we can work with you to create a custom casino game.
Should I choose a turnkey or custom-made sports betting solution?
If your company needs to find a reliable and effective solution for running sports betting, the answer is simple: you need a turnkey solution.
Turnkey solutions are those that are pre-built and ready to be used. They are created by experts in the industry who know exactly what they're doing and have already done it many times before. This means that they can offer you all the necessary features, but also guarantee their performance and reliability.
Custom-made solutions, on the other hand, are made specifically for your company by programmers who know how to write code but not necessarily how to choose the right features for your business. This can mean that some important features may be missing from your product or that it will take longer than expected for it to be completed.
How long does it take to launch a turnkey sportsbook software?
It depends on your budget and the complexity of your website. If you have a very simple website, you can launch it within a week. But if you have a more complex site with multiple languages, currencies, and payment methods, it could take up to 2 months for us to finish the development of your sportsbook software.