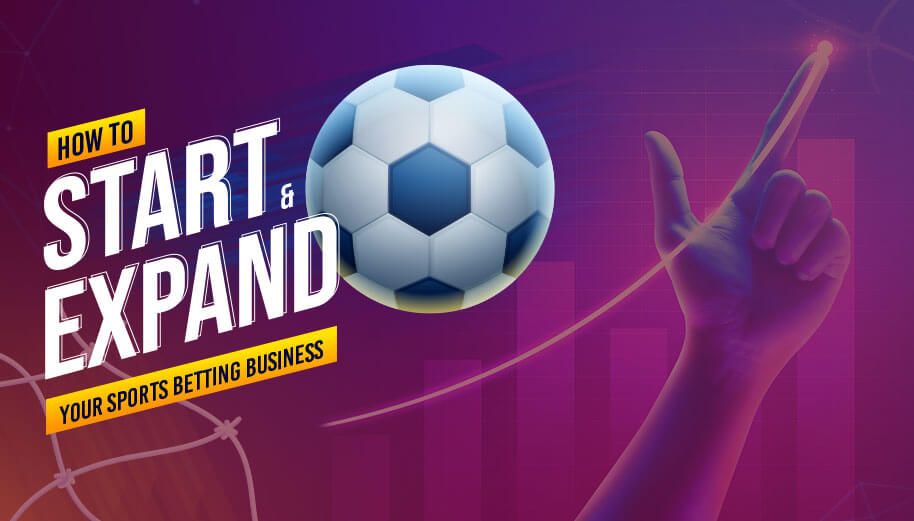 Are you looking to get started with your sports betting business? There are several things that you need to consider. It's not an easy task, but it can be done with a little bit of research and preparation.
The first thing that you need to do is find out where people bet online. You'll want to look at the most popular betting sites and see what they're offering. Once you've seen what they have available, you'll be able to decide whether or not you would like to offer something similar.
Before you start offering your services, make sure that you check with someone who knows about the industry. This way, if there are any problems or issues with your business model, they can help resolve them before they become too big of a problem for your customers or yourself.
In order to get started with your new sports betting business, there are several things that you need to do. Let's discuss it further.
Sports betting is the wagering of money or something of monetary value on a sporting event. It is done by a sports book, which takes bets on sporting events and then pays out winnings to the winners. Gambling has been going on since man first walked upright, but it has become more popular due to advances in technology.

Sports betting is now very popular with online casinos and online sportsbooks. They offer a variety of different types of bets that you can make on sports events, including single-match bets, parlays and teasers.

Sports betting can be done legally in many jurisdictions across the world, but there are some places where it is illegal. For example, in the United States it is illegal to bet on any kind of sports event except for horse races in most states. In Europe however, sports betting has become more popular over time and there are many sites that offer various types of bets on different types of events.

There are several different kinds of sports that people like to bet on, including football (soccer), baseball, basketball and hockey among others. Each sport has its own set of rules as well as its own style of play which makes it unique from all other types of sports played around the world today!
Legalisation of Sports Betting
The legalization of sports betting has created a new opportunity for brands. The market is expected to grow over the next decade and reach $160 billion by 2025.

The legalization of sports betting is one of the most important developments in the online gambling industry. The legalization has opened up a whole range of opportunities for operators to expand their customer base, which will help them grow their businesses further.

Legalizing sports betting has also helped to increase the revenue from taxes generated from betting activities. For example, New Jersey gaming regulators reported that tax revenue from sports betting was projected to be about $1.4 billion for the state's budget year that ends on June 30th 2020. This shows how much money can be generated from legalizing sports betting.

Sports betting is legal in only 5 states at the moment, but more states are expected to join the list as they realize the revenue potential and economic benefits of sports betting.

The legalization of sports betting will change consumer behavior around gambling. People who used to bet on games illegally will now be able to do so legally and openly. For example, according to a study conducted by GamblingCompliance, 82 percent of NFL fans said they would place a bet on their favorite team if given the opportunity.

The legalization of sports betting also opens up new opportunities for brands that want to engage with consumers through digital channels or in-store promotions. For example, brands can sponsor sports books or develop branded casino games like poker or blackjack.
How to Start a Sports Betting Business?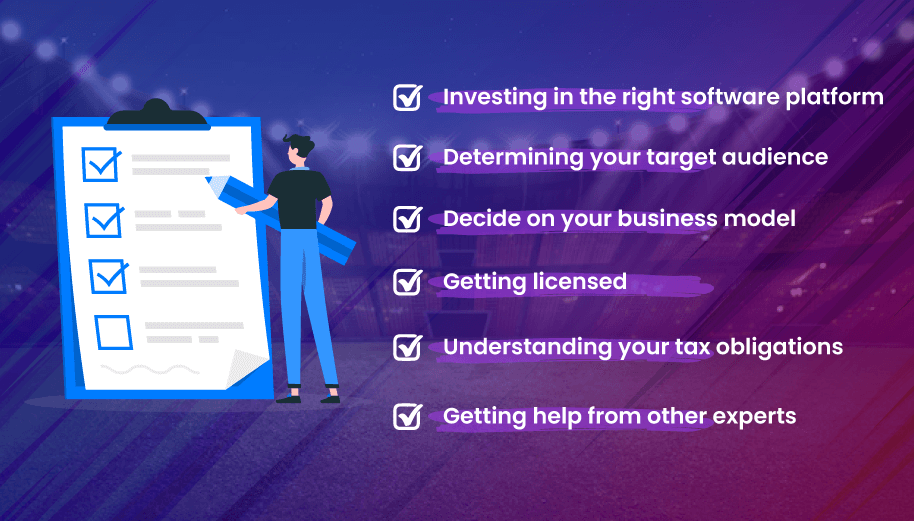 Sports betting is a multi-million dollar industry, and people who bet on sports want to be able to do it in an environment that makes them feel safe and comfortable. If you want to start a sports betting business, you will need to know how to set up your own platform, where customers can place their bets, or have access to the best betting odds.

The first thing that you need to do is decide what kind of sports betting business you want to open. Will it be a brick and mortar location or an online business? There are pros and cons of each option, so it's important to understand them before deciding where your sportsbook will be located.

If you plan on opening a physical sportsbook, there are certain licenses that are required by each state in which you plan to operate. As long as your state allows legal gambling within its borders, then there is no extra paperwork required by law other than registering with the state and paying taxes on your earnings.

Online betting is much simpler because you don't have any overhead costs associated with running an office or store front space. You can spend less money advertising online since most people are already familiar with the internet.

Here are some of the things you need to think about when starting a sports betting business:
iGamingBook's Exceptional Sports Betting Solutions
iGamingBook is a company that provides white label sports betting solutions for online and mobile casinos. Our company's exceptional white label sports betting solution allows you to offer your players the chance to bet on their favorite sports, without having to worry about the technicalities and operational difficulties of running such an exciting platform.
We have been in this business for several years now and have gained considerable experience in offering our clients the best service possible. Our team consists of highly skilled professionals who are ready to help you with any questions or concerns you may have regarding our services.
Our white label sports betting software is designed to provide you with an efficient and easy way for players to place bets on their favorite games. We offer top-notch features that will make your site stand out from other gambling sites available online today.
Plus Points of iGamingBook's Sports Betting Software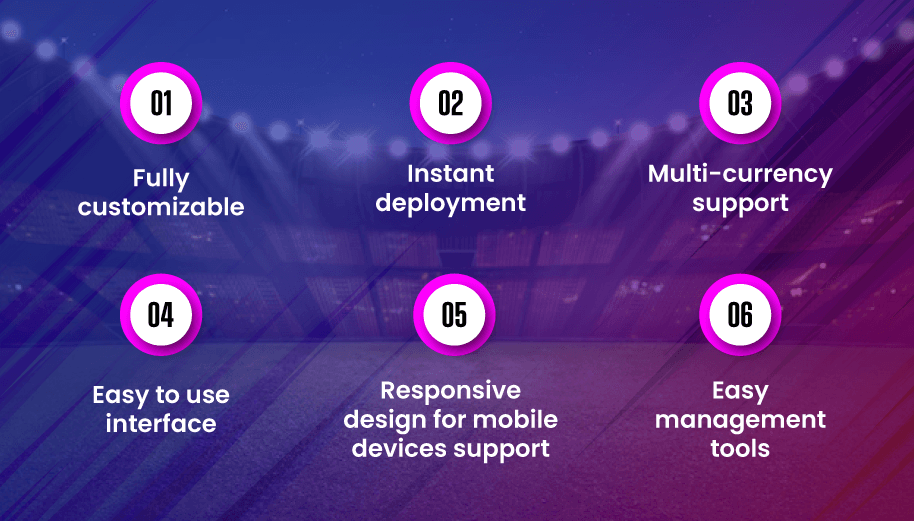 iGamingBook offers the best white label sports betting software. It is a customized solution that enables you to launch your own sports book.
You will get all the advantages of a fully-fledged, custom-built and integrated platform, but at a fraction of the cost. You can use it to launch your own sports book in one click.

Fully customizable
You can customize your site to suit your personal preferences and brand it with your own logo and colors. You have complete control over every aspect of your site including its design, layout, look and feel as well as other features such as payment methods and currencies accepted. There are no limits on what you can do with your site or how much customization you can make!

Instant deployment
You don't need to wait for weeks or months before launching your sports book – it takes less than an hour! All you need is an internet connection and some basic technical knowledge about how to operate the system. The rest of the work will be done by our team of developers and programmers who will customize everything according to your needs and requirements.

Multi-currency support
One of the main benefits of iGamingBook is that it supports multiple currencies in one betting exchange. For example, if you have customers from all over the world, they will be able to place wagers in their local currency. This makes it easier for them to deposit and withdraw funds from their accounts as well as keep track of their winnings and losses.

Easy to use interface
Another advantage offered by iGamingBook's white label sports betting software is its user-friendly interface that makes it easy for both managers and players to navigate through the website without any difficulty or confusion. The simple design also makes it easier for players to place their bets quickly with just a few clicks on the mouse button.

Responsive design for mobile devices support
Our software is built with responsive design, which means it automatically adapts to fit different screen resolutions. This means that you can offer your customers an optimal experience regardless of whether they're using desktop computers, laptops or mobile devices such as smartphones and tablets.

Easy management tools
Our sports betting software provides easy management tools that allow you to manage your site easily without having to deal with complex technicalities or hiring expensive experts, which means that running your own sportsbook can be a profitable venture even if you don't have extensive programming knowledge or technical expertise!
In conclusion, if you are looking to start your own business and you are able to dedicate the time and resources needed, starting an online sports betting business can be a very profitable move.

The online gaming industry is booming, with revenue being generated by players at a rapid rate. And because there is such fierce competition between bookmakers and so much money to be made, there are plenty of sites looking to exploit the inefficiencies in this market. iGamingBook's white label solutions provide a solution to capitalize on these opportunities by offering new betting services to both existing bookmakers and intrepid entrepreneurs. If you're interested in getting into the bookmaking business, but don't have the time or resources to do it yourself, iGamingBook can help.
Can sports betting be a profitable business?
The answer is yes, it is possible to make money by running a sports betting platform. The first thing that you need to do is to understand the market and find out if there is any demand for your product or service.
Who is the target audience for sports betting?
The target audience for sports betting is anyone who enjoys gambling. There are many types of people that enjoy sports betting, and they are not all the same. There is a wide range of ages that enjoy this type of activity, as well as many different cultures.
How can I attract customers to my online sports betting platform?
You can do this by ensuring that your site is easy to navigate, has a clear and concise layout, and is fast enough to load quickly. You should also make sure that you have a dedicated customer service team who are happy to answer any questions or concerns that your users might have.
How do I create an online sportsbook?
There are several ways to create an online sportsbook:
A) Build your own site from scratch using WordPress or Drupal (there are plenty of free tutorials online). This will give you total control over your design and customization options but will require more time upfront and maintenance later down the road.
B) Use a ready-made template (there are many available for purchase online). This will allow you to get up and running more quickly but may limit flexibility down the road.
C) Hire someone else to build your site for you (again, there are many freelancers available for hire). This method requires more upfront cost but may save money in the long run.