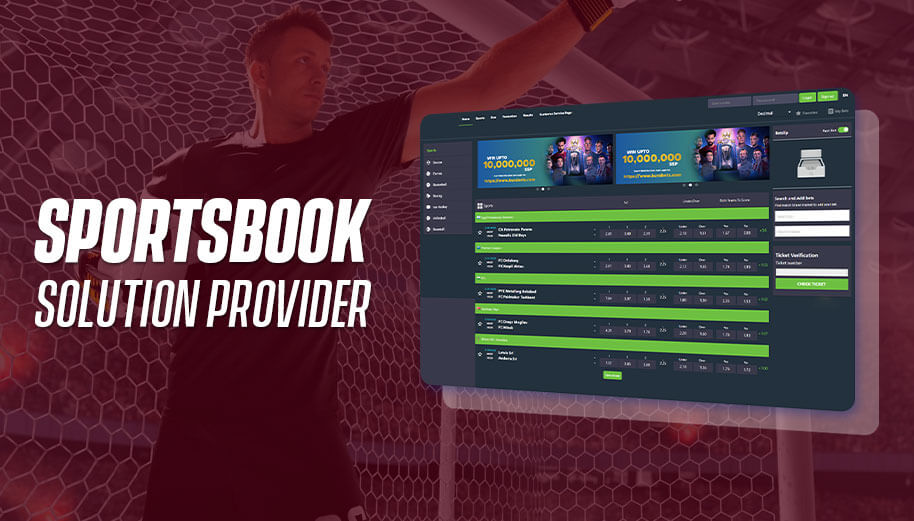 The sportsbook industry is experiencing unprecedented growth. In fact, the global sports betting market was estimated at
$89.65 billion in 202
1 and is projected to reach $99.20 billion by the end of 2022, according to the Business Research Company. As a result, there is a growing need for sportsbook solution providers who can offer effective and innovative solutions for the growing demand in this sector. Sportsbook solution providers offer everything you need to set up your own online sportsbook platform. They provide software that allows you to take bets from customers and pay out winnings when requested by players. Some software also allows you to set up rules such as parlays and teasers which add excitement to any sport's season by allowing players more flexibility when placing bets on games they want to win.
What Does a Sportsbook Solution Provider Offer?
A sportsbook solution provider is a company that can provide all the necessary components for creating a sportsbook website. This includes software, hardware, and licensing. The solution provider will assist you in setting up your own sports betting website or mobile app, so that you can start taking bets instantly. A sportsbook solution provider will also offer you with a host of other services. Some of these include:

Sportsbook software
This is the core technology that runs your book, including odds calculation, money management and reporting. The software can be accessed through a desktop computer or mobile device.

Customer support
Sportsbooks have a wide range of customers, ranging from advanced bettors and casual gamblers to new players who need help with their first bet. A good sportsbook solution provider will offer 24/7 support by phone, live chat and email to ensure that all customers receive personalized service.

Security
A sportsbook solution provider should have an experienced team of developers who can build secure systems that protect user data and funds.

Hosting
The hosting company provides an online platform where you can build your site and run it at scale. The host will also provide technical support if any problems arise during operation or maintenance.

Payment processing
Sportsbooks need a way to accept payments from players and send payouts to winners, which is why many use third-party payment processors like Neteller or Skrill. These companies specialize in handling financial transactions online, ensuring they're secure while they process hundreds of thousands of dollars each week.

Advertising
Some sportsbooks offer advertising programs that let you display your own ads on their websites. This can be an effective way to drive traffic to your site while maintaining a relationship with another company in the industry.
7 Things to Look For Before Picking a Sportsbook Solution Provider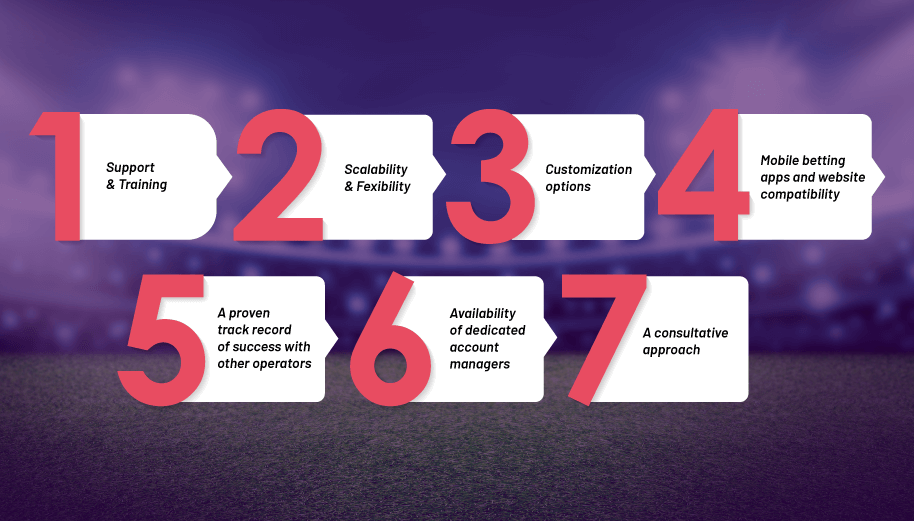 Sportsbook software solutions are designed to make it easier for sports bettors to place bets online and manage their accounts. The best sportsbook software solutions will help you manage your account, make deposits and withdrawals, transfer funds between different accounts and view your betting history. If you're looking for a sports book solution provider, there are several things you should look for before making your selection:
Features Offered by iGamingBook's Sportsbook Solutions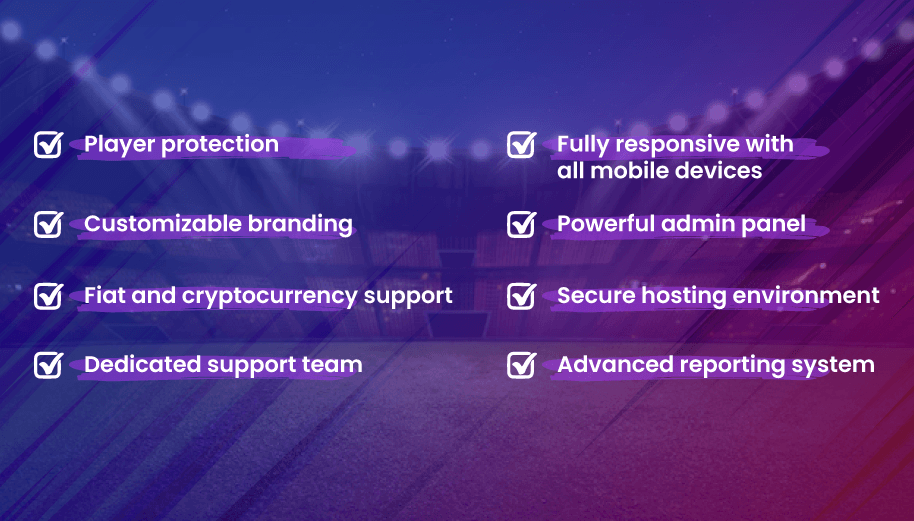 iGamingBook's white label sportsbook solutions are designed to give you complete control over all aspects of your sportsbook brand. The white label sportsbook solutions are feature-rich, and include some of the most advanced and innovative technologies in the industry. These features are explained in more detail below:

Player protection
We are dedicated to providing the finest player protection available. Our sportsbook solutions include the most advanced technologies that protect players from fraud, identity theft and money laundering. We also have a dedicated compliance department that works closely with our gaming partners to ensure that all players are treated fairly.All deposits and withdrawals are processed through our secure banking partner, which is fully licensed in Malta and regulated by the Lotteries and Gaming Authority (LGA). The LGA is one of the most stringent gaming regulators in Europe, requiring strict adherence to KYC/AML regulations.

Customizable branding
One of the features of our white label sportsbook solutions is that you can change the design of the platform to fit your brand. This means that when someone visits your website, they won't be able to tell that it is powered by us.You can also change things like colors, logos and other elements to make it look exactly how you want it to look. This makes it easy for you to create a website which matches your existing branding and style.

Fiat and cryptocurrency support
Our white label sportsbook solutions support both fiat currencies and cryptocurrencies, so you don't have to worry about the legal status of bitcoin or other digital currencies in your country or jurisdiction. You can accept bets from customers anywhere in the world using our system, which makes it easy to reach new customers without having to worry about restrictive regulations or exchange rates.You can also choose from a number of payment processors that we integrate with, including the most popular ones like Skrill, Neteller, PayPal, and more.

Dedicated support team
This is a dedicated support team that we train and manage. We want to ensure that our clients are getting the best service possible, so we have developed a system where our support team is focused 100% on their clients.We also offer a 24/7 live chat service so you can get in touch with us at any time of day or night.Our support team is available on an ongoing basis, so if you ever have any questions or concerns about anything at all, we are here to help!

Fully responsive with all mobile devices
Our white label sportsbook solutions are fully responsive and work great on any device. Our white label sportsbooks look great on every type of device including smartphones, tablets, desktops and laptops too! You don't need to worry about whether or not your players will be able to log in from their mobile devices because our white label sportsbooks are built specifically for mobile users in mind.

Powerful admin panel
The most important and advanced feature of our white label sportsbook solutions is the powerful admin panel. You will be able to manage your sports betting site without any knowledge of coding or programming. The admin panel is a one-stop shop for all the features you need to operate your own private sportsbook.The admin panel is fully customizable, so you can make it look exactly the way you want it to look. It also includes advanced filtering tools and an extensive reporting system that allows you to track all bets, deposits and payouts easily.

Secure hosting environment
We employ a team of expert developers and programmers who work continuously to ensure that our services are safe and secure. We also use the latest technology in order to prevent any kind of hacking attempts or breaches on your website by hackers. Our programmers are constantly upgrading our servers and modifying them in order to make sure they are up-to-date with the latest security features available on the market. This way you can be sure that your website will always be protected against any kind of attacks by hackers or other cyber criminals.

Advanced reporting system
Our white label sportsbook platform comes with an advanced reporting system that allows you to monitor the activities of your customers. With this reporting system, you will be able to monitor user activity, as well as their deposits and withdrawals. This means that you will have complete control over the operations of your online sportsbook.You can also use this reporting tool to track your income and expenses, so that you can make adjustments if you need to. If necessary, you can even export your data into Excel or other software programs.
How can iGamingBook Help You to Setup A Fully Functional Sportsbook Solution?
The online betting industry has been growing rapidly over the past few years. More and more people are starting to bet online, and this is fuelling the growth of the market. If you want to start your own online sportsbook website, then there are several things that you need to consider. iGamingBook platform is a fully-fledged sportsbook software solution that includes everything you need to get started. This includes a state-of-the-art admin panel for you to control your users and events, plus multiple bookmakers, odds providers and payment gateways. We also have an integrated affiliate system which allows you to promote your business through our network of partners, in addition to other built-in marketing tools such as promotional banners and email campaigns.
Is sportsbook a growing industry?
Yes, it's a growing industry. In fact, the global sports betting market has a compound annual growth rate of 10.64% between 2021 and 2022.
How can I start my own sportsbook platform?
Your first step is to find a host for your platform. This will be the company that owns the servers and provides the technical support for your site.
What are the requirements of setting up an online sports betting platform?
To set up an online sports betting platform, you need a few things:
a. A license to operate
b. A server to host your website
c. An API
Are white label sportsbook solutions better than custom-built solutions?
White label sportsbook solutions are better than custom-built solutions, but they're not always the best option.
The reason white label sportsbooks are usually better is that they come with a lot of options and features pre-built into the system. These include things like odds comparison, live betting, and customer support.
Can I test iGamingBook's white label sportsbook solutions?
Sure! You can test out our white label sportsbook solutions by signing up for a free account.