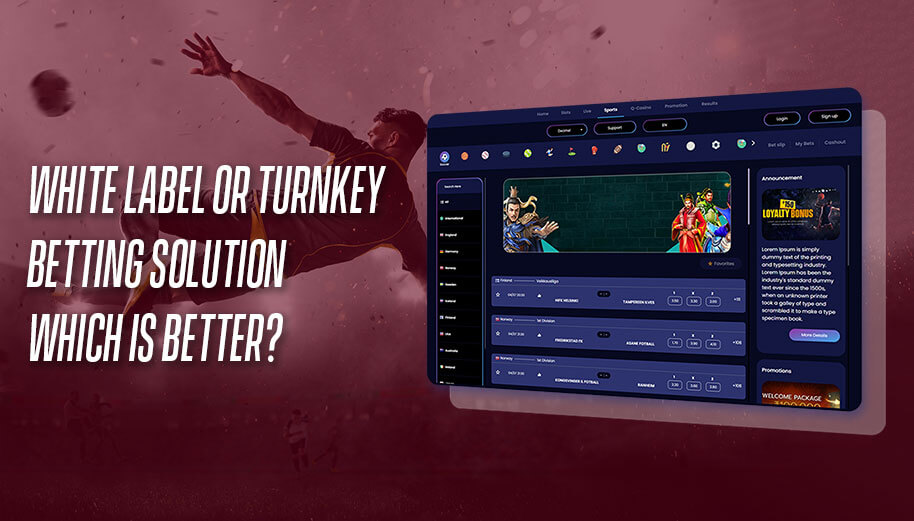 White label and turnkey solutions are two of the most common ways to offer betting on your website. The key difference between them is that a white label solution will give you full control over how the betting works, while a turnkey solution will let you integrate your site with an existing betting provider. In this article we will cover what they both mean, what they're used for and which one is better suited to your needs.
What are White Label Betting Solutions?
White label betting solutions are a type of betting platform that allows you to offer your own brand, while taking advantage of the technology and experience of an established provider.
White label solutions will typically come with an array of features already built in, such as sportsbook, casino and poker. You can also choose to add extra products such as live streaming or mobile apps if you feel they would be useful to your customers.
White label providers are usually able to offer a fully managed solution where they take care of everything from hosting and development to marketing, customer service, and reporting. This can make it easier for you to get started in sports betting without having to invest in expensive hardware and software yourself.
An Overview of Turnkey Betting Solutions
Turnkey betting solutions are a very popular way to get your business started. They are easy to use, affordable and most importantly, require little or no technical knowledge.
If you want to start making money from betting on sports or playing poker, then these systems can be the perfect solution for you.
The main benefit of using a turnkey betting solution is that it allows you to offer a great service at a fraction of the cost. The software has been developed by professionals and will ensure that your customers have a smooth experience. It will also help you make more profit by offering them promotions and bonuses, which increase the amount of time they spend on your site.
Difference Between White Label and Turnkey Betting Solutions
White Label Solutions are the most basic form of betting software, which allows a company to operate its own brand and have full control over the entire betting process. On the other hand, Turnkey Solutions provides everything needed to start a new bookmaker business from scratch. This includes all the necessary software, IT infrastructure and support services. Here are five differences between White Label and Turnkey betting solutions: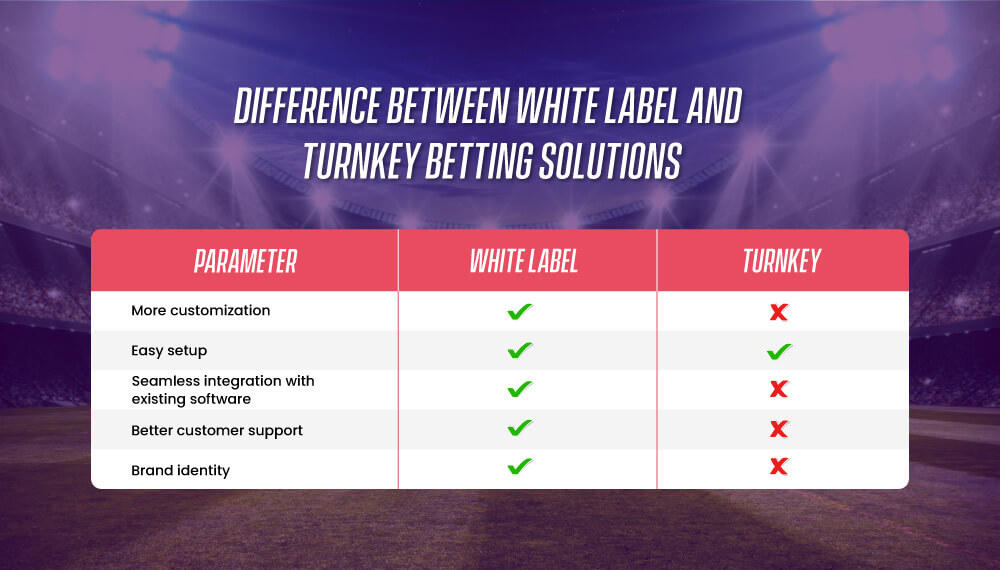 Features You Should Look For in a White Label Betting Software
If you are a betting brand, then you should consider investing in a white label betting software. A white label betting software is simply a pre-built set of tools that allows you to offer your customers more flexibility, control, and privacy. It's perfect for anyone who wants to offer sports betting without having to build their own platform from scratch. Here are some features that you should look for when evaluating white label betting software: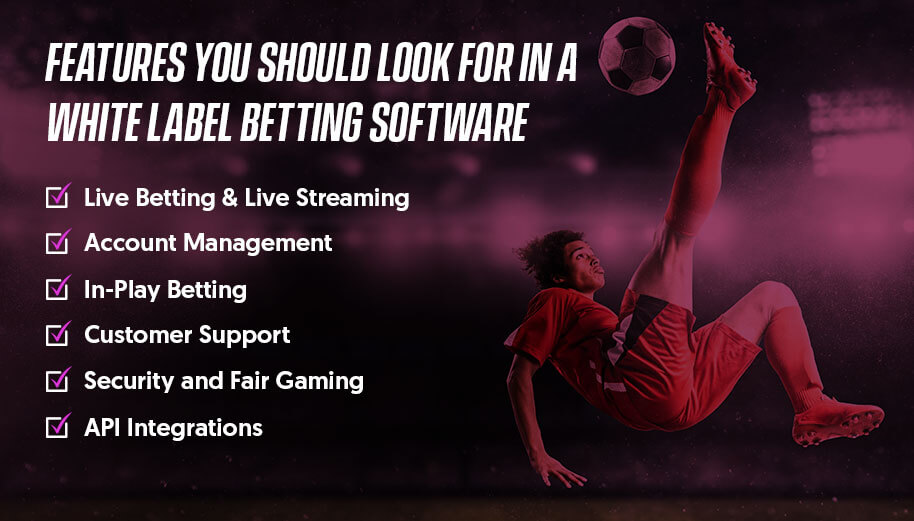 Live Betting & Live Streaming
Live betting and live streaming are crucial to your success as an online sportsbook. While live betting is a feature that most punters love, it also encourages them to keep betting with you. If punters can bet on their favourite teams in-play, they are more likely to keep coming back for more. Live Streaming is also a great feature to have because it will allow you to broadcast your events live on social media platforms like Facebook or YouTube. You can even create videos of your favourite sports stars playing and share them with your customers on these platforms.

Account Management
In order to provide a quality account management experience, it's important to have all the tools necessary in place. This includes things like payment methods and currencies, as well as support options and customer service. The best providers will also be able to provide different levels of service based on what you need as an operator.

In-Play Betting
In-play betting is a relatively new feature in the world of online sports betting. It allows you to place bets on a game that is already in progress. The appeal of this feature is that it allows you to place bets on games where the result is still unknown, but your prediction looks like a good bet at the time. The downside is that there's no way to know when or if the game will end before placing your bet, so there's always a chance that you'll miss out on placing a wager altogether.

Customer Support
With any kind of business, whether it's online or offline, customer support is extremely important. You need to make sure that when customers use your website or make requests for anything related to the site, they get an immediate response from someone who can help them with their problem or request. If there is no way for people to get in touch with someone when they need it most, then they will simply move on to another company that has better service offerings and this could lead to lost customers and revenue for you which could have been avoided if only you had provided better customer support systems within your system.

Casino Game Integration
One of the most important things in any betting software is casino game integration. You can have a great platform for sports betting, but if it doesn't offer casino games, then it will fail. If your platform doesn't integrate with casino games, then you might as well close down now because no one will use it. A good white label betting software should include all of the popular casino games like roulette and blackjack. It should also have live dealer games where you can interact with real human dealers instead of just playing against the computer or other players online.

Security and Fair Gaming
One of the most important things to look out for is security. You want a platform that is safe and secure, with no risk of downtime or hacking. This is especially important when it comes to gambling because you need to ensure that your customers' money and data are safe. When choosing a white label betting software platform, look for one that has SSL encryption and has been audited by independent parties such as Trustwave or McAfee. Also make sure that there are no known vulnerabilities in the code or its architecture before you start using it.

API Integrations
The most important feature of any betting software is the ability to integrate with other platforms. The most common way to do this is through an Application Programming Interface (API). An API allows your betting software to send data to a third-party service and receive information back in return, which allows it to integrate with other services. There are two main types of APIs: webhooks and live feeds. Webhooks allow you to create actions that occur when certain events occur on your site, like when someone accepts a bet or deposits money into their account. Live feeds allow you to pull data from other websites in real time and display it on yours.
What Does iGamingBook Offer?
iGamingBook offers you a multi-featured white label sports betting solution. It is a complete turnkey product which can be used as a basic or advanced platform, depending on your needs and preferences. It's a powerful platform that offers you all the features needed to ensure success in iGaming industry. The software comes packed with all the necessary tools for creating your own sports betting website. You can quickly create your own betting site by choosing the right theme, adding the desired language and configuring the appearance of your online casino website.
The sports betting industry is one of the fastest growing industries in the world, and it's not hard to see why. As people get older and more mature, they are looking for new ways to make money and have fun. Sports betting has become a great tool for people who want to start their own business. In order to start your own sports betting business, you need a platform that will allow you to create an account, place bets and withdraw money when you win. iGamingBook is here to help you do just that with its products. The main product offered by iGamingBook is its turnkey white-label solution. This gives you everything you need to set up your own sports betting platform quickly and easily. You can customize it any way that suits your needs, which makes this option perfect for businesses that want something unique instead of generic solutions.
What is a white label sports betting platform?
A white label sports betting platform is a fully customizable software solution that allows you to offer your clients an all-in-one platform for their sports betting needs. It's easy to install and set up, and it can be branded with your own logo and design elements.
How does a turnkey betting solution work?
A turnkey betting solution is an online gambling software that offers a complete solution for your website. It includes everything, from the software to the payment processor.
Can a white label solution be customized?
White label solutions can be customized to fit your business needs and requirements.
Does turnkey betting solution support API?
Yes, it is possible to integrate turnkey betting solution with your own software. We provide a comprehensive API documentation that will help you to integrate the provided features with your own software.