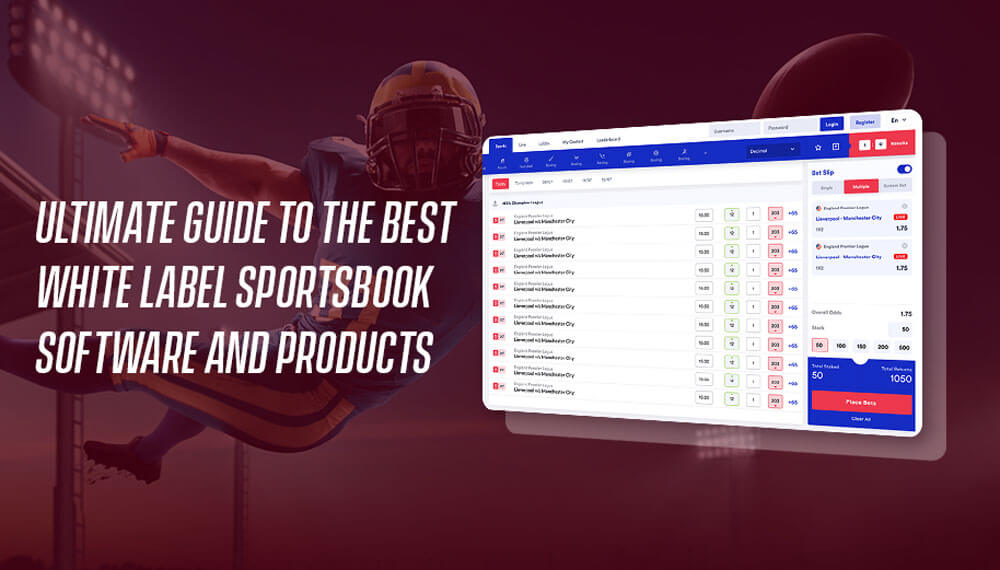 White-label sportsbook software and products are the most important assets for any sportsbook or casino. These software solutions are designed to enable you to create your very own sportsbook and casino with your brand name, logo, and website.
The growing popularity and legalization of sports betting have contributed significantly to the growth of the online betting industry. There are now over 200 million people worldwide who participate in sports betting on an annual basis.
The legalization of sports betting has also opened new markets for online gambling sites like ours here at Betting Sites Reviews. Sports betting isn't just about football anymore – it's about all kinds of sports and other activities too! You can bet on everything from tennis matches and golf tournaments to dog races and horse racing events!
In this guide, we will provide you with all the information you need to know about white label sportsbook software, what it is and why it's so important for online betting. We'll also take a look at some of the most popular solutions on the market today, as well as some of their key features.
What is White Label Software?
White label software is a software product that is sold under the brand of the reseller. The reseller gets to choose their name and logo for the product. This allows you to sell the same product as your own, even though it was originally developed by another company.This is a common practice in the B2B market and is often used when selling high-value products or services. The fundamental benefit of white label software is that it makes it possible to sell products more effectively without requiring you to spend a lot of time on marketing, sales, and customer service. A white label product can also be referred to as an OEM product or private label product.
How does White Label Sportsbook Software Work?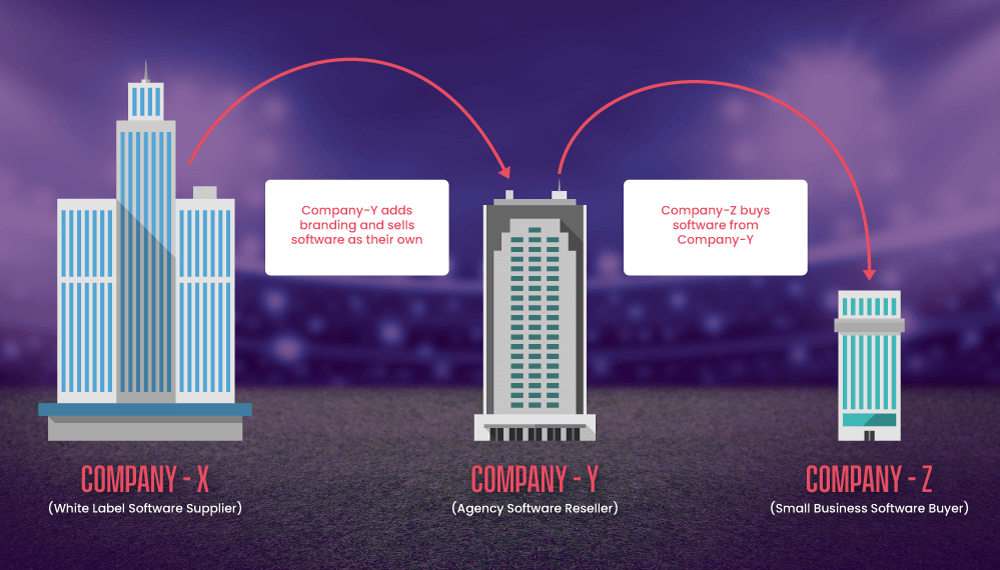 White label sports betting software is the most popular and widely used type of online betting software. It allows operators to customize their website, brand, and design and get their unique look and feel. It's easy to set up and manage because the software comes with an easy-to-use control panel that allows you to manage your website as well as all of your bets.
The best part about white label software is that it offers a wide range of features and functionalities which can be customized according to your needs. This means that you will be able to get exactly what you want from your betting site without having to compromise on anything.
One reason why so many people choose this kind of service is that it allows them to get started with very little investment in terms of time or money. All they need is a little bit of technical knowledge and they will be able to get started right away!
Key Differences Between White Label and Custom Made Solution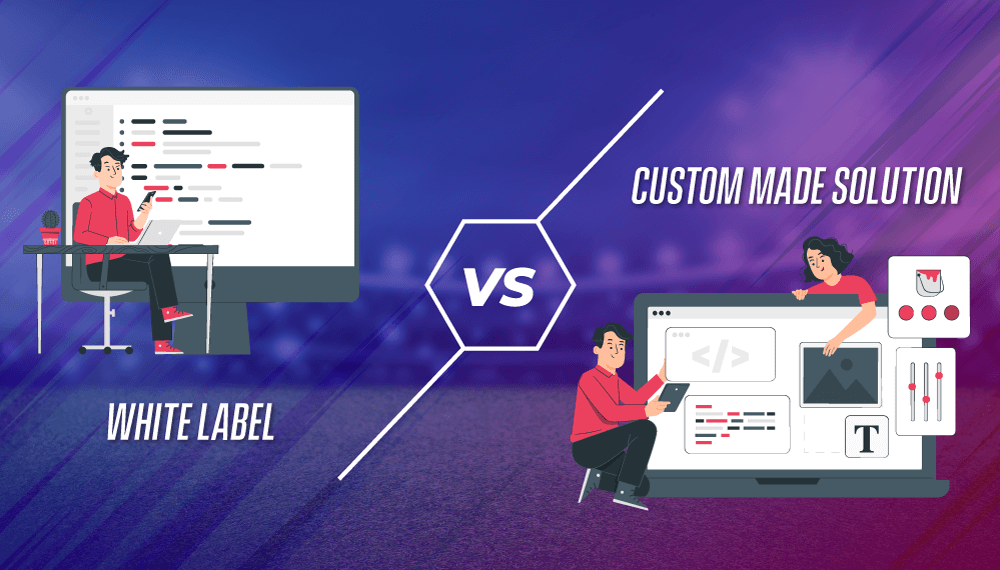 Many people often confuse white labels and custom-made solutions. They are both similar in the way that they put the brand of the company into the solution. However, there are some key differences between white label and custom-made solutions.

More Cost-effective than Custom-made Solution
White label is cost-effective because it is based on existing software or pre-built software which can be customized by the company to suit their requirements. On the other hand, a custom-made solution requires more time and effort to be spent to build a unique product for your business needs. This means that you will have to pay more for developing a custom-made solution than for a white label one.

Flexibility for Clients
The primary benefit of using a white label product is that it offers flexibility for clients. This means that they don't have to get involved in the development or maintenance of the software, so they don't have to hire engineers or other professionals who are capable of doing this work. They simply need to purchase the product and use it on their servers or PCs as they see fit. This allows them to focus on what they do best - selling products or providing services - while leaving development and maintenance up to someone else.

Time to Market
White label software products are a great option if you need to get your product out there quickly. Because the vendor already has an existing supply chain in place, it shouldn't take too long for them to manufacture your product once you've placed an order. On the other hand, custom-made solutions take more time because they require additional research and development before being created from scratch. If speed is important for your business, then a white label may be the better choice for you.

Ability to Integrate with Other Systems
A major difference between white label and custom-made solutions is their ability to integrate with existing systems. While white-label products can be integrated with some standard software systems, they may not be able to integrate into other custom-built systems. On the other hand, a custom-made solution can be easily integrated into any existing system.

ROI
The Return on Investment (ROI) of white label software can be significant compared with custom-made solutions because they are often more affordable and more flexible than custom software solutions which tend to be more expensive and harder to change over time if new needs arise or additional functionality is required after the launch date(s).
Why Do You Need a White Label Solution?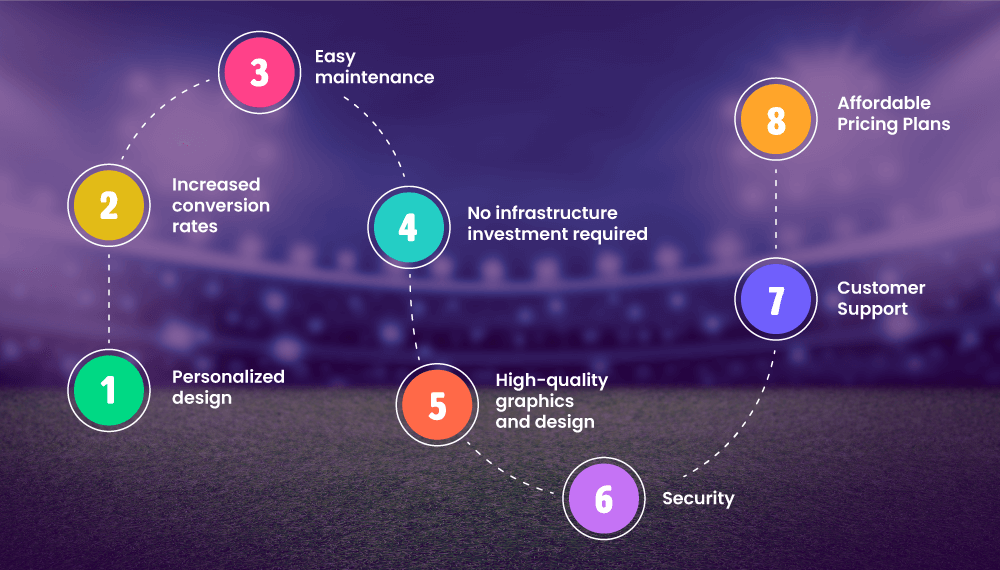 The white label solution is a product that allows you to sell your product under your own brand. But why would you need it? You don't want to be tied down by the requirements and limitations of a pre-built software application. You want to make sure that your business processes are tailored to your specific needs, and that's exactly what the white label solution provides. The white label solution offers flexibility and freedom from limitations, making it a great choice for businesses that want to be able to customize their software applications to meet their specific needs. Here are various benefits provided by a white label sportsbook solution:

Personalized design
One of the best things about white label sportsbook software is that it gives you the option to personalize your design. This means that you can make it look exactly how you want it to look. If people want a more professional feel, then they can go for something that looks more like an online casino website. If they want something more fun, then they can opt for something more colorful and vibrant. This makes it easier for people to relate with your brand and helps them form positive associations with your site.

Increased conversion rates
By using white label sportsbook software, operators can create a unique brand identity with their own custom design, language and support options. This helps them stand out from the crowd and convert more visitors into customers.

Easy maintenance
Since the platform is hosted on a server, you don't need to worry about updating it yourself. You can focus on marketing your business instead of spending time maintaining your website. White label sportsbooks have everything you need to run a successful business, including payment processors, bankroll management tools and customer support features. You don't have to worry about backups or security because they've been built into the platform from day one.

No infrastructure investment required
One of the biggest benefits of using a white label sportsbook is that it will reduce your investment costs significantly. This is because you don't need to invest in a lot of resources like servers or employees, as these are already provided by the software provider. You can also start operating your own sportsbook with just one payment and without any upfront costs.

High-quality graphics and design
A lot of people don't know this but white label sportsbooks often come with high quality graphics and design elements that make it look really great on any device (desktop, tablet or mobile). You get access to hundreds of different designs templates which you can use as is or customize however you like.

Security
The most important function of a white label sportsbook software is to ensure that your customers' data and funds are kept in the safest of hands. A good white label sportsbook software should have a high level of security, both for your site and for the customers' accounts and transactions.

Affordable Pricing Plans
White label software often has many different pricing plans available so that it can be tailored to fit any budget. This is especially important if you are just starting out as a business and need something affordable. Most white label providers will offer their products at a fraction of the cost of other types of software, but still provide quality and security for your brand.

Customer Support
White label software comes with 24/7 customer support. If you have any questions about how to use the system or any issues with it, the support staff will be there to help you. This is especially important if you're planning on running your own website because it's not easy for newbies to figure out everything on their own.
Things to Consider While Choosing a White Label Sportsbook Software Provider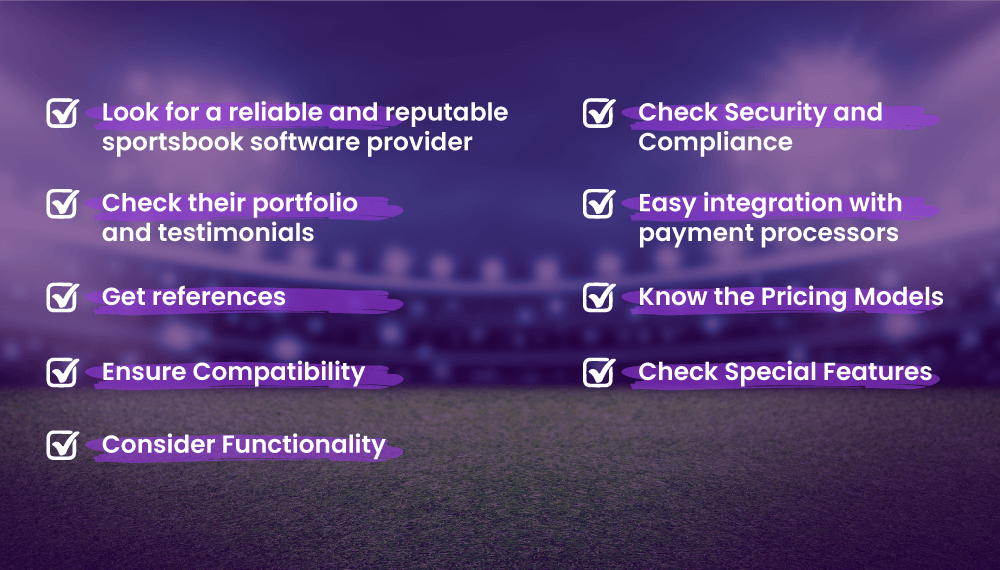 When it comes to choosing a white label sportsbook software provider, there are tons of things that you need to consider. With so many software providers out there, it is easy to get lost in the chaos.

So, here are some tips that will help you choose the best white label services provider for your business:

Look for a reliable and reputable sportsbook software provider
This is an important factor when looking for a good provider of sports betting software. You need to be sure that they have been in business for at least 5 years and have delivered great results for their clients in the past.

Check their portfolio and testimonials
You need to check out what other companies have said about the service provider before deciding on who to work with. If they have positive reviews from satisfied clients then this is a good sign that they are worth considering further.

Get references
Another thing that you should do before signing up with any company is to ask them for references from previous clients who are willing to share their experiences with them and how their services worked out for them in the long run (if possible). This way, you will get an idea if they can deliver on their promises or not based on how others have been treated by them so far.

Ensure Compatibility
You need to ensure that the software provider you choose is compatible with your chosen platform. If you're looking to launch a sportsbook, you should make sure that the white label sportsbook software can be integrated into your preferred platform.

Consider Functionality
The white label software for sale should offer all the important functions that you need to successfully run your online gambling business. These functions include betting options, payment processing, and customer support.

Check Security and Compliance
You want to be sure that the white label sportsbook software provider has undergone rigorous testing and has been approved by legal authorities. And if they haven't, then there's no point in using their product because it could get you into trouble with regulators or land you in court with disgruntled customers who have lost money due to technical issues or other problems associated with using an illegal or unlicensed product.

Easy integration with payment processors
Payment processors provide an essential service to online sportsbooks by processing payments from customers. A good white label provider will ensure easy integration of its product with all major payment processors so that you do not have to worry about any technical issues related to processing payments on your website. This will save you time and money as well as help in reducing frauds or chargebacks from customers.

Know the Pricing Models
As with any other business, white label software for sale use different pricing models. Some of them charge based on the number of bets made by their customers while others charge on a flat rate basis. If you want to know what kind of pricing model is best for your business, then make sure that you speak to your chosen software provider about it.

Check Special Features
You should check whether the software offers special features like live betting, a mobile app, and so on. The features of the sportsbook software provider matter a lot as they can make your betting experience more enjoyable and exciting.
Average Cost of a White Label Sportsbook Software
The average cost of a white label sportsbook software is $10,000 – $30,000. This includes the initial purchase price and subsequent yearly fees.
The cost of a white label sportsbook software varies based on the features you require and the amount of customization you want to include in your product.
The price you pay for a white label sportsbook software depends on two factors:
The number of games offered and
The number of leagues supported.
A more expensive sportsbook will offer a greater variety of games to bet on, allowing customers to place bets on different sports like baseball, basketball, and tennis. It also offers more leagues for betting purposes as well as more betting options such as first-half bets and over / under bets for individual players within a game.
The cost of using a white label Sportsbook Software is determined by the number of games offered and the number of leagues supported. Each additional game or league adds to the complexity of the software which increases its cost.
If you're looking to get started with white label products, you must do your research first. To be successful in this new endeavor, you need to know the basics and how to go about creating a product from start to finish. The information above should help you do that—it contains all of the general tips that you should remember when getting into the online betting business.
Once you know what you want, it'll eventually become easier for you to formulate a business plan moving forward. It will take some time, but if you keep up your end of things, the rewards will come soon enough. 
iGamingBook is a white label sportsbook software provider that can help you achieve your goals.
If you're looking for a reliable and affordable sportsbook software provider, iGamingBook is the right place for you. We have been providing our clients with the best legal sports betting software for many years now.
Our white label sportsbook software has been used by several companies all over the world, and it has proven to be very profitable for them. This means that we have the experience needed to help you succeed in this industry.
We know how difficult it can be to start an online sports betting business from scratch. That's why we created our white label sportsbook software that has everything your business needs to be successful: top-notch security, fast payouts, excellent customer support, and advanced marketing tools. 
Which are the best sports betting software providers in the world?
The best sports betting software provider in the world is iGamingBook. They are one of the largest white label sportsbook software providers in the world, and they specialize in creating software that is used by casinos and sportsbooks all over the world.
What software do bookmakers use?
Bookmakers use a variety of software, depending on the size and structure of their organization.
In general, bookmakers use one or more of the following:
-A data acquisition tool (DAT) to pull real-time information from betting exchanges.
-A data management system (DMS) to store and retrieve historical information.
-A risk management system (RMS) to calculate odds and optimize payouts based on current trends in betting behavior.
How do I start a sports betting business?
You can start a sports betting business by gathering the necessary information, including your location's legal requirements and regulations. Then, you can apply for a license and open your business!
How do you build a betting system?
First, you need to decide what kind of betting system you want. You'll need to choose which betting options will be available to you. For example:
-Sportsbook betting (whether it's football, baseball, basketball, etc.)
-Online casinos (slots games and table games)
-Bookmakers (horse racing and greyhound racing)
What is a bookie software?
A bookie software is a platform that allows you to manage your betting operations. It automates many of the tasks associated with running a successful bookmaking business, such as:
-Accepting bets from customers
-Calculating odds
-Reporting winnings and payouts